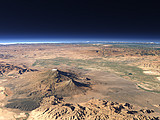 Ararat: In Search Of The Mythical Mountain, By Frank Westerman Climbers Of All Creeds Are Captivated By Mt Ararat Reviewed By John Morrish
31 August 2008
Frank Westerman is not the first man to become obsessed with a mountain, but his book is as much about himself as it is about Mount Ararat. .
While he gives us a comprehensive account of the mountain's mythology and history, and tells the story of his determination to climb it, he also explores a more personal issue: that of his loss of religious faith.



Westerman was brought up in the Netherlands among strict Protestants who believed in the literal truth of the Bible. His grandfather insisted that the earth was 6,000 years old. His mother reacted with horror when the young Frank showed her a school essay that began with the statement that man was descended from the apes. But his own faith dwindled and died: "It seemed to me that my faith had been chipped away at gradually, more or less without me noticing," he recalls. It had, he says elsewhere, "trickled out of my life", and he wanted to know why.

His own attempt to explore the reality and myth of Ararat was to be, he notes, "a sort of pilgrimage, but then again, the pilgrimage of a non-believer". Along the way he recalls childhood experiences, enjoys discussions with geologists, mountain guides and fellow travellers, and recounts the story of the mountain and attempts to conquer it. A particular hero is Friedrich Parrot, who was first to climb to the summit, in 1829. When he came down, unfortunately, he found it difficult to get anyone to believe him.

On the border between Turkey and Armenia, Ararat was for years the front-line between Nato and the Soviet bloc, and is still highly militarised. But it also forms a border between Christianity and Islam, and, in a sense, between belief and scepticism. Westerman explores the many versions of the story of Noah's Ark â` which according to Genesis came to rest on Ararat â` in the Christian, Jewish and Islamic traditions, and also in older and more remote versions. He is particularly good on the Book of Gilgamesh, providing an admiring account of how the book, with its pagan version of the flood myth, came to be pieced together at the British Museum by George Smith, a self-taught assistant in the Assyriology department. But he also shows that the myth continues to cast a powerful spell, particularly on Christians of an evangelical bent who are still searching the mountain for remnants of the Ark; many of them in the belief that the discovery of the Ark will lead directly to the Day of Judgement. One ark-seeker was James Irwin, a former Apollo astronaut, who claimed â` some time after the event â` to have sensed God's presence while he was walking on the moon. He made six trips to Ararat without finding anything.

To get on to the mountain at all takes remarkable persistence. Westerman details his struggles with Turkish bureaucracy as he attempts to get the correct documentation for his climb. Apart from anything else, the area is a war zone, with the struggle between Turkey and Kurdish separatists just the latest in a long line of conflicts. "What kept most climbers at bay," he notes, "was not the three- or four-day climb itself, or the need for crampons and an ice axe. A far greater threat was the rattle of machine guns heard in the region from time to time."

Nonetheless, he perseveres, acquiring a large pile of equipment, a handful of altitude-sickness pills, some boots that blister his feet, and masses of advice. He also goes on an odd training exercise: wadlopen is the apparently popular Dutch hobby of mud-walking, which involves wading through the deep sludge around the coastline. A vividly-written chapter reveals it to be both utterly exhausting and potentially life-threatening. It is, Westerman says, sometimes called "horizontal mountain-climbing", and you can see why.

This is an episodic, discursive book, with some episodes less relevant than others. Nonetheless, the book is studded with information, skilfully constructed and fluently written. The translation from the Dutch, by Sam Garrett, is relaxed and colloquial. He has surely broken new ground by providing English translations of Westerman's text messages home: "CAMP 2 4100M" reads one. "NRBY SNW & CLDS. NO TRBL W/ALT SCKNES."
©independent.co.uk
---


Will He, Won't He?; Books, by Alexander Waugh
The Spectator, August 30, 2008
ARARAT by Frank Westerman, translated by Sam Garrett Harvill Secker, £16.99, pp. 229 ISBN 97881846550898 £11.99 (plus £2.45 p&p) 0870 429 6655

Who was Noah? The Bible tells us little. He was the flood hero of course, but what else?

A drunken viniculturist who lived to the age of 950; who was 600 at the time of the flood and 500 when he fathered Shem, Ham and Japheth. His wrinkled bottom was ogled by his 100-year-old sons when he passed out from drunkeness in his tent one night. But was he not also an 'upright man' and a man who 'walked with God'?

Each year hundreds of pilgrims, known as 'Arkeologists' make their way to Mount Ararat (where the Turkish, Armenian and Iranian borders meet) hoping to find clues and relics. Some return home with splints of wood, others only with soft memories of mystic vision. Arkeologists are simple folk, of whom the late Apollo astronaut, James Irwin, was one. They ignore the fact that in Genesis, Noah's ship came to rest 'in the mountains of Ararat', which is not the same as 'on Mount Ararat'. Never mind, they say, and never mind that the modern 'Mount Ararat' is situated outside the old Kingdom of Ararat and is not therefore among the 'Mountains of Ararat'. Why should Arkeologists care if their mountain only got its name from Marco Polo in the 13th century? The Turks always called it Agri Dagi (Mountain of Pain), the Armenians, Masis (Mother Mountain), and the Kurds, Ciyaye Agiri (Fiery Mountain).

If you start with an unbudgeable faith in Ararat you don't give a fig that the Qu'ran claims that the Ark came to rest on al-Judi, a mountain miles to the south; that the 2nd-century BC Book of Jubilees says it was Mount Lubar, that Nicholas of Damascus says it was an Armenian peak called Baris.

In the Babylonian account, the oldest extant Deluge story, from which the Genesis authors undoubtedly snitched their plot, the Ark lands on the top of Mount Nizir.

Enter Frank Westerman, a clever, talented 43-year-old Dutchman of Puritan stock. His grandfather and mother were Creationists. He was baptised and, brought up in rigid Protestant faith, 'permeated with Christianity', but from his early twenties he ceased to pray. At university he studied tropical agriculture, then he became a journalist, reporting from war-torn Bosnia and later from Moscow. His books have won important literary prizes. He first saw Ararat, the great mountain-volcano, from the Soviet side. It seemed to pull him. 'I wanted, ' he says, 'to test my resolve as a non-believer... to see whether faith could touch me or not.' Soon he had forged a plan: to climb to its summit and to write a book about 'belief and knowledge, religion and science, with Ararat as its focal point'.

So he decided to leave his young wife and daughter and to scale the 17,000-footer on his own. When Westerman outlined this scheme to his publisher he was abruptly warned: 'Promise me one thing: that halfway through the manuscript you won't start writing he with a capital H.' 'And if I do?' he asked. 'Then I won't publish it.' God does appear as a 'Him' halfway through, but his publisher either failed to notice or decided that Westerman was far too good an author to reprimand. The result of his labours is a short book of stupendous richness and complexity, a cornucopia of jumbled facts about geology, history and science, woven into a personal memoir and travelogue that combines stories about the lives of his teachers with information about Dutch mining, family sentiment, religious belief, academic rivalry, portraits of fellow travellers, mountaineering history, politics, personalities and an abundance of lesser, uncategorisable side-detail. All this diverse material is held together by a thread of tension as to whether Westerman will find faith halfway up the mountain. When the air is thin, the climber exhausted, the cold starts to bite and the sweeping views turn to an icy blur, will our hero and guide suddenly behold the Arkeologists' light? Will he start digging for shards of the patriarch's wine glasses under the rubble of the Ahora Gorge, or fall prostrate before an outcrop of rock known as the 'Ararat Anomaly' that some believe to be the fossilised remains of the Ark?

At timed intervals Westerman taunts his readers with this possibility. If faith could come to the astronaut, he argues, maybe it will also come to him. The book (a fine translation from the Dutch by Sam Garrett) is unquestionably eccentric, but written with enough knowledge, craft and competence to keep the drowsiest of readers wide awake from first to last.

The answer to the author's most pressing question is tucked neatly behind a glancing metaphor right at the end.